Honey
Honey for sale! We have a small amount of our 2019 batch honey available for sale. This honey is all-natural, raw, unfiltered wildflower honey direct from our bees to you! We extracted and bottled it by hand and the flavor is absolutely amazing! It is a rich, light colored honey with a full-bodied, complex floral flavor. Enjoy the health benefits of true raw honey.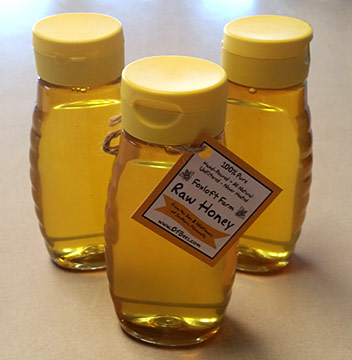 1 lb Honey - Gift Bottle - $22
---
1 lb Honey Jars - 4 pack - $80 1 lb Honey Jars - 4 pack
---
NOTE! This honey is currently available for shipping within the U.S. only! Please do not order internationally at this time. If you would like to be notified of future honey sales, please
follow us on Twitter.
Learn more about our honey collection process!